Week 9
Day 61: Saturday November 11
Just this.
Day 60: Friday November 10
A friend reminded me the other day that buying tulip bulbs does not guarantee a beautiful spring garden; you have to remember to take them out of the trunk of your car! …and into the garden…. and find a trowel…. and dig holes …. and plant them… one at a time…. in groups if you like, but one at a time….and cover them over with good earth…… then….trust them and winter to do their part….before you get a beautiful spring garden
Sigh! I understand the lesson…! I'm still planting the bulbs one by one in groups. Not real ones,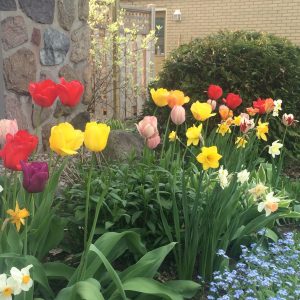 metaphorical ones, words on a page….. I am learning first hand all the tricks and disciplines needed to write lots of words….eye breaks, body stretches, mind breaks…. but more importantly, rear in seat, hands to the trowel-erm- keyboard. And a photo of a beautiful spring garden,just above the laptop screen.
Day 59: Thursday November 9
Transformations are subtle, but also fundamental, complete. This past summer and autumn I have watched my child transform gradually week by week  through her pregnancy. That metamorphic moment of birth,seems so final, she is a mother! But true though that is, it seems the transformation isn't yet complete…..the  newborn weeks are what complete the process, as three bodies and souls learn together how to be a family…..and that is no thing short of a wonder to behold! Today, Gan(that's me) took care of little Noah, while his mother- my daughter- had her hair cut.  She came back, took her sleepy boy from my arms and said, wonder in her voice, "I wasn't me without you. "
Yes. That's what a Mom says. Transformation.
Day 57: Tuesday November 7
A marathon writing day, wrapping up another chapter of the magnum opus, and this is what part of my desk looks like!  Tomorrow, it's time for a file sort, a clean desk, and on to the next chapter!
Day 58: Monday November 6
Tonight Norman and I kept company with 15,000 others who have been touched in some way by the work of Leonard Cohen.  You can read reviews of the show elsewhere (e.g. Gazette), but suffice to say there was indeed an impressive line up of artists, who filled the night to the brim with Cohen's iconic playlist, interspersed with video and images of the man himself,raincoat and fedora and all.
What struck me however was the almost religious/spiritual feel of the evening.  When Cohen's son, Adam, played his parting tribute to his father at the end of the evening, singing "Coming Back to You" – the first song his father taught him-  the audience did not rise in raucous applause. We clapped, and then just sat in a moment of silent… was it homage? remembrance? gratitude?  We'd been allowed to hear a son singing to the soul of his father, and it was a privilege, so perhaps it was the respectful silence we owe anyone who, having loved and lost, remembers in front of us, with tears in their eyes.

My first encounter with Cohen was actually not through his songs, but through a small book of poems, better called psalms,  "The Book of Mercy." It took me a few years to realize that the Cohen who wrote these prayer poems  was also the author of such gritty anthems as "The Future" and " Democracy is Coming."  Book of Mercy  is much closer in spirit to his iconic Hallelujah, and the insistent "Hineni" of  You want it Darker.   Over the years I've figured out that the soul can't sing deep songs of confession, adoration, graceful acceptance if it does not also rake the dirt and grit and ugliness of not only the world "out there" but the broken places of our own inner battles with goodness and wickedness.   Leonard Cohen  lived everywhere between two poles of ugliness and beauty, and wrestled a reluctant poetic muse to produce a body of work that will continue to leave us on our feet, belting out "Closing Time" and on our knees, whispering "If it be your will."
Thanks, Leonard.
Day 57: Sunday November 5
I worshipped with the people of God in another part of Montreal this morning.  In the UCC, we celebrate what is known as "ordered liberty" in the conduct of worship, so much so that each congregation is free -within some limits – to create its own unique way of doing worship.  It's been a fascinating experience to keep one part of my sabbatical brain tuned in to these nuances, variations, and sometimes outright idiosyncrasies, and to use them to reflect on our own practices at Cedar Park.  I'm sure, as you've experienced leadership from Revs. Wendy and Alyson, that you've become more attuned to what is our rhythm too. An afternoon back at the desk, and some headway made before nightfall, making good on the encouragement from Karoline Lewis two days ago.