Week 6
Day 39: Friday October 20
Dilemma day: It's market day in Lourmarin,  when the population triples, the square hums with  tourists, farmers, locals, artisans, vendors, and locals, and the rich aromas of spice, lavender, olives, and… is that the smell of boar sausage being grilled? The sky, which was threatening this morning at 7 am  has given way to  brilliant sunshine….. quoi faire? What to do?  This is, after all,  my last day here….  You guessed it… the market will win over the books and the laptop, after all it's over by 1 pm, by which time I'll have a fresh baguette, a locally grown avocado and some roquette salad, and some of that boar sausage in my panier for lunch.  A plus tard!
Day 38: Thursday October 19
Today can be summed up simply:
Books read, or reviewed today: 6.
Articles skimmed, annotated, referenced: 5
Net words of thesis written today:968.  ( = loads on the cutting pile, malheureusement)
Notes for next chapter: check.
Potage au courge made and eaten: delicieux!
Steps walked: 13,031  ( a  numerical palindrome!)
Cups of tea/coffee:  ooh, not quite as many as net words written.
Day 37:  Wednesday October 18
The clouds appeared today, for the first time, and the temperature has dropped. The vine leaves on the roof have turned from gold to red, and they flutter in through the open window, along with the wasps in search of something sweet.  It feels like the ending of a fruitful season here in Provence; the lavender is close cropped and brown, the only grapes left on the vines are for une vendange tardive ( sweet wine made from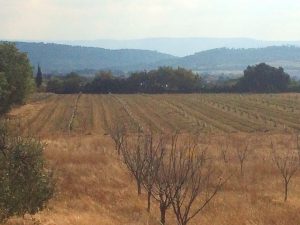 grapes allowed to catch the fall frosts), the flax is harvested, sunflowers are long over, and their fields are ploughed over.  Geraniums still dot the gold walls with flashes of red,  and some late blooming roses, and jasmine, and rosemary still fill the air with perfume,making the most of the October sun.  The pace of life in the village slows noticeably too;  as the weekend tourists leave, the cafes and souvenir shops pull down their shutters, and a sign on one door tells a tale  "La chasse commence!  A plus tard."  As for me? I'm chasing words.
Day  36  Tuesday October 17
Without Norman, the sun-lit apartment with a view of the old church clock tower  has become a full-time writing studio. Even with the wonders of technology meaning that  a good number of my books are all bundled neatly in my Kindle,  I still manage to
make a spreading mess  of paper, pens,  post-its, and peripheral devices when I'm writing!  The second installment  of my thesis went off through the ether to Luther Seminary for comment, feedback and correction today.  If anyone tells you writing is a piece of cake, don't believe them.  It's a bit daunting to know how much is still left to do, but it's also good to celebrate each stage completed.
Have I already written about the bells?  No matter, today, with only three days left  here, it seems appropriate.  The aforementioned clock tower chimes the hour and half-hour without fail, day and night.  A closer look through the zoom lens reveals the ominous words below the clock face:  Ora  ne  te haec hora perdat.    Pray that you do not lose (waste) this hour. …….     And in case that's not enough, the words above the clock face  say Horae dum saltant nostras vorant.  Hard to translate, but the sense is clear enough… hours danced away, they bite us!   Oh, okay then! Back to it!
Day 35  Monday October 16
Norman's departure day.  It's been  bucolic to have spent this time together,  balancing the task of thesis writing with the equally important 'task' of sabbathing…. taking time to notice the smell of rosemary and olives on the morning breeze, the play of shadow against the wall as the earth spins towards evening,  and the French love affair with  the rond-point (roundabout). Did you know France has over 30,000 of them, over half the world's total number, and they like to  put odd things in the middle of them… boats, large flags, a mini-watermill,  an oversized duck…. really. I think we circumnavigated about 1000 of them en route to the airport.  Foolishly,  I chose to avoid the ronds-point and take  the supposedly faster  autoroute back to Lourmarin.   God bless the emergency crews, the ambulance drivers, police officers, tow-truck operators, and ordinary citizens , who came to the rescue of the occupants of the 13 car pile up   that I was not involved in, but had to drive by  slowly, carefully, and prayerfully.
Day 34  Sunday October 15
I tried, I really did!  I intended to join followers of the way of Jesus at the Temple Protestant du Lourmarin this morning, but they are without a pastor, and the doors remained firmly shut. (Yes, I've already thought "I wonder if they want a supply pastor from Montreal next summer?")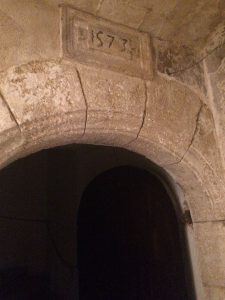 On a more sombre note, there is a story to the date over the entry to our temporary abode in this town (see photo).  During the tumultuous times of the "Wars of Religion" here in France, the village of Lourmarin, along with other villages nearby,was destroyed  in 1545  by  fire, deliberately set to massacre  les Vaudois, ( in English "Waldensians"), because of their 'protestant' religion.  Some 5000 people were slaughtered in 5 days. Others died of famine, and yet more were imprisoned.  Those who managed to escape fled to the hills, hid in caves, some fled the region, and some left France for the New World. Others eventually returned to rebuild their homes and their lives, hence the dating of most of the buildings here to the late 16th century, and later. But faith can be persistent, oui?  There remains a pride here that this town rose from its ashes (built now, almost exclusively of stone), and preserves its history of courage in its stones, and plaques to les martyrs du Lourmarin.
It gives me pause, in these troublesome times of our own,  when perhaps for the first time in our living history, the degree of polarization between those who call themselves Christian is becoming alarming, even threatening.  Because I spent my earlier career as a church historian,  I am all too familiar with the number of times certainty of religious conviction has carried  with it torches, swords, lynching ropes, guns, pogroms, inquisitions, persecutions and massacres. We cannot say it would never happen again. It already is.
I've remained a Christian only by dint of being also a pacifist.   For me, there is nothing about the life or teaching of Jesus that condones hatred, or its offspring, violence.  Only while I can be part of a community that practises peace, respect, welcome and respect, can I also claim to be a friend of Jesus Christ, and a follower of his Way.
So, perhaps one could say, that although the church was not open this morning, the long-dead preachers of Lourmarin were heard again anyway.  May we honour their faith with our own courage to uphold the peace of Christ.Amen.