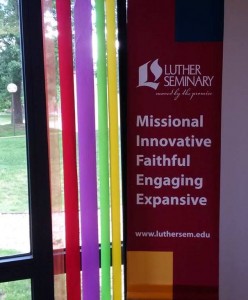 Luther Seminary D.Min Year 2
It's so good to be back here at Luther Seminary in the Twin Cities! I get to reconnect with a bright, talented, diverse cohort of ministry colleagues, as we re-energize one another with wisdom, curiosity, and a common thirst for learning more about this strange and wonderful calling of congregational ministry. We have an amazing teaching faculty too, who love what they do, and love that we  are eager to learn with them. Don't get me wrong, dear Cedar Parkers, I LOVE being your Minister, and that's why I'm here; to quest for richer, deeper veins of wisdom that will help me live my call to serve God in the world with you as well as I can.  This month is about you as much as it's about me.
So, if you're interested, follow this blog for the duration of my second year residency. I'll post twice each week, to try to give you a flavour of  what we're up to, in courses titled "Preaching as the Proclaimed Word."  and "Preaching Church into God's Future"   ( I decided not to take the course on Psalms, but to carve new learning curves, even though I LOVE the psalms…. oh right, y'all knew that already!)
Today, I took a leaf out of Rev. Ron's  book,  delivering a passage of Scripture learned by heart (you'll get to experience this text with me in September, until then, it's a secret!). What a tough discipline, what hard work, and what surprising graces eventually emerged from the learning, and the performing of it in a circle, each of us taking a different text and retelling the  Bible story from Genesis to Acts.  Most of us were new to this skill, very nervous about it, but at the end, we wanted to do it again!  Some highlights:  reimagining the impact of   "Jesus" teaching while cross-legged on the ground.
That's enough for today.
Meanwhile, please pray for me, for energy and health to thrive and learn. And, please know that I am praying for all of you, that God hold you all safe, and blessed until we are back together again.