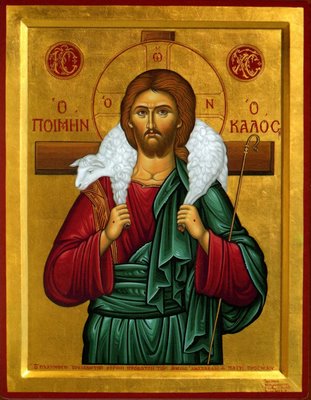 The fourth week of Easter is always "Shepherd Sunday", in all three lectionary years!!
(Those compilers of the Lectionary must have really liked this metaphor of God and of Jesus!)
This Year B version of Shepherd Sunday uses as its texts,   John 10:11-8 and Psalm 23. You can find them(and the passage from Acts)  at this link: http://lectionary.library.vanderbilt.edu/texts.php?id=89#gospel_reading
It makes life as a preacher a bit challenging though…. how many times can you preach on 'dumb, ornery sheep' without it getting, well, repetitive??    This time last year, our interim minister, Rev. Ron, was off on sick leave, and I stepped in to preach…"Shepherd Sunday", so I've already done the "sheep are stupid, and we're the sheep" sermon.  I don't think I should do it again so soon, do you?!  So here I sit, Friday morning, asking myself what I shall discover in the texts this year.  The danger, for someone with a very low threshhold for boredom (that's me), is to seek novelty for novelty's sake, rather than "host the text" long enough for deep wisdom to emerge in our mutual encounter.
I used that phrase last week "hosting the text."  It's a gift from a friend and colleague from BC, Rev. Ed Searcy, who attributes it to his mentor, Walter Brueggemann, one of my favourite authors on the interpretation of Scripture. "Hosting" these texts for a few weeks has helped me to appreciate the beauty of the cadences of the  23rd Psalm, and its power to speak into the Shadowed, Death Valleys a word of confidence in God.
The Gospel reading it seems to me is a double layer cake (rich dark chocolate, with subtle hints of coffee, and red wine).   Although John situates this "I am" statement of Jesus in themiddle of his teaching and healing ministry, and therefore before his death, it is really a word of 'confidence in God' (like the Psalm), spoken to the small, embattled, newborn, community of John in the years after  Jesus' death, and also likely after all hell broke loose in Jerusalem, Judea and Palestine in the wake of the Roman destruction of the city, temple and any last pockets of Jewish (and new Christian) resistance to Roman rule.  Those were tough times, they were fraught with anxiety and danger. Followers of Jesus had no friends to protect them from Rome, or from the continuing Jewish religious movement.  Where would they go? Was Jesus still worth following in this climate of persecution?
In this context, the promise that the risen Christ is one who has already laid down his life to keep God's Dream of abundant life available to all, takes on fresh potency.  God's Dream is worth the agony for them, as it was for Jesus.  (This is NOT about Jesus paying some hostage price, but simply living passionately a dream, and a love for God and God's people so intently that he would  spend his life for this passion and dream.)  Resurrection is only powerful if people somehow experience the power of life over death and fear for themselves, and these words are meant to help that first community, and ours,  'connect' with that power of life over fear and even death,  the power of Love and Life that outlasts crucifixion and funerals, that we experience in the aftermath of the death of a loved one,  or even a revered one, such as a Martin Luther King.
Shepherd was a metaphor that worked for Judeo-Christians in the first and second century. Perhaps it's not such a 'realistic' analogy in our day, so we have to work a little harder to get the fullness of its meaning and potential.  "I will never leave you, or lead you astray" is at the core of this message from the risen Christ to them, and to us.     If that's what it means, I'm okay after all, that "it's that Shepherd again!" He's a welcome, presence after all.
See you Sunday, or on the comments page!